December 01, 2018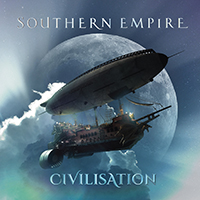 The radio station glorifies the old memories, then the music breaks off the connecting tape and the dreamy phrases of clean vocals begin the Southern Empire - Civilisation album, weaving a primordial lace of conceptual musical extravaganza. The vocals predominate in the sound of the Goliath's Moon composition, but musical passages weave a marvelous lace around vocal phrases, intriguing before further development and foreshadowing incredibly interesting musical solutions. Then the instrumental solo complements the main motive with shades of improvisations, preserving the structure of the musical image, but supplementing it with new shades, which are followed by a further vocal part, then again returning to the original narration.
The broadcast speaker's distorted phrase divides the compositions, heralding the start of the next puzzle Cries For The Lonely of concept album, beginning with playful musical riddles. Then the bass guitar calls out for the elements of blues, but the guitar interweaves jazz improvisations and envelops the entire musical image with artistic covers. Then the vocal transforms the musical flow, invoking epic moments and the spirit of folk motifs, over and over again transforming the musical pitch and calling for the background tunes of the female vocals. Instrumental passages fascinate very interesting transformations, completing the composition with an unforgettable guitar solo, edged with a majestic epic motif.
The dances of the natives who glorify the coming of the gods - or heralding the appearance of a romantic melody, inspiring feelings and conjectures, begins The Crossroads composition, giving the main motive. But is it necessary to single out the main motive of the composition, which is longer than some albums? The vocal brings in experiences and doubts, while preserving dreaminess - but then, as if a majestic drive, descends through vocal phrases, transforming the composition. Then the instrumental bridge, shimmering with jazz improvisations, transforms the sound, after thinking the enchanting romance of epic motifs brings meditations and melodic feelings of pensive ballads. Then the main vocal is repeated and the adherents are singing along, but especially the instrumental parts in the bridges should be noted - they will not leave a single music lover indifferent!
A soft and gentle Innocence & Fortune ballad completes the album, thoughtfully and wisely summing up the musical narration. Particular attention should be paid to the charming parts of the flute, but music is thrown up in a majestic hymn - if there were not enough charming musical revelations for you.