November 30, 2018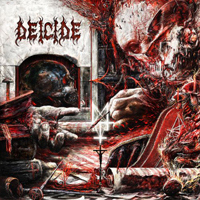 As if the heralds announce the arrival of the nobility, they honor those who have arrived with a solemn march the canvas of the One With Satan intro rolls out. Then the vocal sweeps up a wave of furious drive, sweeping away any obstacles, returning with majestic meditation in a leisurely chorus of the first track of the Deicide - Overtures Of Blasphemy album.
Twisting the axis of the Crawled From The Shadows main motive with the whirlwinds of musical passages, vocal phrases complement it and pierce the musical picture, creating an integral and fascinating image.
As if continuing the previous song Seal The Tomb Below forces a wave of gloomy mysteriousness, the musical passages follow the vocal part and inspire intrigue, fascinating with obscure temptations, rising melodic guitar solos in the chorus and instrumental bridge after him. After a brief pause, Compliments Of Christ transforms the musical image, concentrating in a magnificent hymn, pulsing with a confident march, enveloping the vocals with meaningful and exciting musical influences.
Focusing the significance of the narration, All That Is Evil concentrates the musical covers as if guards around the vocal part, shrouding vocal phrases with gloomy and harsh musical influences.
Shooting a whirlwind of musical fury, the Excommunicated wraps itself in vocal reflections with harsh musical covers, combining them in a single flow of chorus, concentrating moze and rage in a mid-tempo march.
The guitar solo for the Anointed In Blood introduction elevates the instrumental passages to the dominant position, then stepping back and intertwining with vocal reflections in a single wave of a harsh medium tempo musical image.
The Crucified Soul Of Salvation main motive immediately subordinates the rest of the musical components of the composition to its command, the vocal explodes from time to time with a distant stream of musical fury, but then reunites together.
The fascinating melody weaves the marvelous laces of the intro, then the vocals complement the sound of the Defying The Sacred composition with harsh notes, combining melody and power together, brighter displaying this unity in the chorus and the sequel.
Rage, power and anger sweep away everything from the path - Consumed By Hatred rolls with a harsh and irresistible drive, weaving together vocal narration and instrumental passages.
Spinning the flywheel of the harsh narrative Flesh, Power, Dominion envelops vocal reflections in a swirl of musical passages, spinning the flywheel of the main motive around the vocal part.
The final composition Destined To Blasphemy sums up the album, partly marking its name and pulsing in a dense march in the introduction and rushing in a rapid stream, combining these contrasts in the future.