March 03, 2023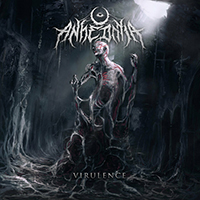 The Descent instrumental intro of the Anhedonia (USA) - Virulence album creates an intriguing mystery for the further development of the musical variations of the musical artwork, enveloping the vocals narrative of A Rotting Existence song with the sparkling charm of the artistic musical covers enveloping the procession of the rhythmic march, driving in the footsteps of the musical path for vocals phrases.
Bursting through the rugged drive of the Unwakened Ones (feat. Alex Terrible), musical composition fully demonstrates the influence of the guest vocalist on the sound, emphasizing the depth of his roaring vocals, complementing the vocal part with notes of background support. The sound of the Eternity of Flesh composition builds its structure on the basis of a rhythmic march with vocal narration, complementing them with oriental musical motifs and enveloping the vocal procession in symphonic unity with enchanting musical covers, pushing the vocal part to the forefront of the Make Them Bleed musical image, preserving stylistic shades in the fascinating unity of the musical artistry of the twilight fairy tale.
Enveloping the further vocal story with enchanting twilight of musical mystery, the The Well (feat. Michael Hewat) musical fairy tale fascinates with its mystery, creating a fascinating musical atmosphere. This musical creation begins a new fragment with an emphasis on the work of guest artists, even more elevating to the top of the musical image the role of guest vocalists in uniting the vocal part of the So Far Below (feat. Cody Fuentes & Josh Miller) song, shrouded in musical passages with shades of oriental motifs.
The unhurried procession of the Woes of Reclament composition brings the vocal sermon to the forefront, rhythmically and confidently paving its way and complementing the main vocals with background chorales, prefacing the completion of the Virulence album with its title track, preserving the symphonic charm of this musical style, combining it with vocal severity in an impressive unity.