March 02, 2023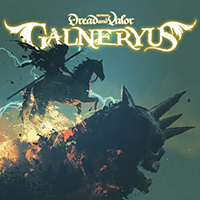 The guitar solo of the Demolish The Wickedness! introduction paves the way for the procession of the Run To The Edge composition, complementing the charm of melodic musical passages with inspirational vocal phrases, continuing the musical fairy tale of the Galneryus - Between Dread And Valor album with an exciting musical stream, especially charming the guitar solo of the instrumental part, after which the vocal party is again nominated to the forefront of the musical image.
Weaving the musical canvas of the main motive in the entry, then the vocal fairy tale continues the procession along the laid path, preserving the charm of musical artistry in the Time Will Tell song, then developing it into symphonic greatness with the significance of keyboards in the sound of the Let Us Shine inspired ballad. In the chorus, the main vocals are complemented by the enchanting chorals of musical associates.
In the With Pride musical composition, the vocal party is put forward to the forefront of the musical image, fonding to follow musical variations in the vocal story, continuing such stylistic solutions in the sound of the Bravehearts epic saga with notes of the battle march and valiant heroic legends.
Symphonic keyboards passages of A Piece Of Souls instrumental musical artwork precedes the Inori final album's composition, in which the minstrel ballad complements the change of vocals lyrics from English to the native band's language.