December 20, 2018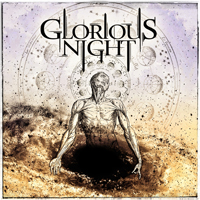 Without restraint, without the slightest expectation, La Muerte De Un Dios throws us around with a musical extravaganza, alternating the main motif with bright sparkling turns of melodism, complementing the story of the Glorious Night - Glorious Night album with epic tones and progressive trends.
Pulsating notes give the sound of a wave of feelings to the Supresion Del Cosmos composition, growling prevails in the vocals, which is transformed and complemented by the notes of screaming.
Sin Rostro music, while preserving progressive melody, becomes tougher and denser; in the vocal part, screaming pays much more attention to itself.
Austere Del Fuego Y El Caos march is interspersed with epic mysterious motifs, drawing vocal experiences into the vastness of unclear intrigue, starting vocal reflections with muffled screaming, then leading the vocal to the forefront of the musical image. Carne Esclava continues epic trends, directing music to follow vocal experiences.
Changeable, iridescent and difficult, Fortaleza envelops the mind and perception with a veil of incredibly mysterious shades, then transforms the composition into pulsating drive waves, returning to the style of entry again and again.
Intriguing Oscuridad ordinances explodes with the substitution of the priest, enveloping the beginning of instrumental narratives with lace exhortations and predictions.
The intertwining of melodic artistry and the development of musical Vinculo ideas, refracted in the light of the rays of musical incarnations complete the album.