May 06, 2017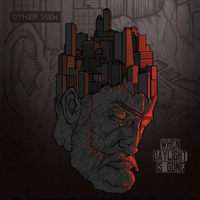 The night creeps invisibly, hiding the darkness in the shadows everywhere, waiting for Other View - When Daylight Is Gone its time have come!
Inspired sublime and exciting keyboards passages weaves together in single vortex of Vantage with powerful and tough guitar riffs, enveloping emotional vocal phrases with a whirlwind of impressive musical frills.
Keyboards passages are carried away over the clouds, leaving the dominant role in Carnivore for so viscous and gloomy guitar riffs and nervous vocal phrases, only falling down with slight influence in the sun's rays.
Lyrical romance envelops the fog of an intriguing introduction, appealing to memories of the Dead. Then fascinating story mixes the melodic ballads tunes with sharp and persistently driving rushes.
The introduction tends into ballads romance, combining pensive dreamy vocal speeches and soft and gentle keyboards motifs, then the Lightyears music turns into an insistent drive that carries in all directions the tender and sensual main motifs realized by the keyboards in such lyrical and melodic way.
First, capturing a thoughtful story, enveloping intriguing and changeable musical moves, excitingThat Burgundy Book circling around the axis of the main motive and vocal phrases with instrumental delights whirlwind.
Starting with the impetuous drive carrying the flag of the keyboard passages, The City Of Amber turns into the broken rhythmic composition, then using glrim ballad that juggles rhythmic structures, then again using the styles that was mentioned over and over again.
Carrying in a tempting and fascinating pursuit of Moonchaser, the music dances in a whirlwind of changing and ornate melodies, combining keyboard shortcuts with changing and sparkling guitar tunes.
Complementing the title of the album, When The Night Comes completes it with medieval minstrel melodies, returning the legendary and unforgettable spirit of ancient fairy tales and proud legends.