March 24, 2019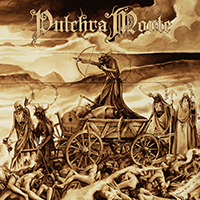 The gloomy Give No More musical picture viscously and painfully envelops you with a twilight atmosphere that hides the clear images of thoughts and tendencies. Vocal phrases brings an emotional tint to this thoughtful anticipation. Severely, violently and confidently Black Ritual complements the Pulchra Morte - Divina Autem Et Aniles album with a leisurely, but tight and tough drive. But the vocal part complements the composition with inspirational epicity, as if the ancient tales come out of oblivion, shaking off the dust. Growling prevails in the vocal part, supplemented from time to time by exclamations of screaming.
As if continuing the tones of the previous composition Soulstench transforms them in a more epic and fairy-tale format, bringing the sparkling tunes of guitar and keyboard passages to the front edge of the musical narration.
The sublime instrumental symphony Ignis et Tempestas keeping the violin melodies in the foreground of the instrumental composition, with rain and bad weather in the background, precedes Fire and Storm composition, in which its melody develops in the gloomy atmosphere of fascinating mysteries. Fascinating guitar and violin melodies create a fascinating background for vocal reflections.
The viscous and motive motives of the harsh Thrown to the Wolves march rolls with confident, unhurried and overwhelmed waves of twilight narration, enveloping vocal reflections with a certain shade of twilight blues.
The Reflection of a Drowning Sun main motive seeks to ascend from the gloomy veils of the surrounding haze, but vocal reflections confuse these ascensions with mysterious temptations, entangling the enchanting chants of witchcraft sacrament.
The majestic reflections of the ancient magician, praying to invisible deities and calling on all-powerful demons are woven into a fascinating musical image of the Shadows from the Cross song. Continuing in an even darker mystery, instrumental tunes seek to catch the echoes of fabulous trends, intertwined with mysterious sighs of unknown spirits. Carefully and leisurelyinstrumental saga IX continues the album. Elevating the grandeur of the epic narratives of ancient eras When Legends Die completes the album with significant waves of the proud anthem, leaving an indelible impression of unforgettable legends.