August 20, 2020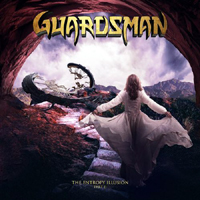 Mysterious and obscure echoes of invisible anticipation end with a soft guitar solo, then intertwining with the Chapter I: The End vocals narration in a mesmerizing beginning of the Guardsman - The Entropy Illusion, Pt. II album, beginning vocal phrases with gentle mystery.
The guitar solo of the Chapter II: Valley and Storm intro gives the sound the rebellious shades of a battle march, twisting the music and vocals into whirlwinds of keyboard symphonies, slightly speeding up the tempo and imparting rhythmic essence to the complication of the progressive fracture of the rhythmic structure.
The Chapter III: Washed Away vocals return to leisurely reflections after an emotional outburst, then intertwining in a mesmerizing dance with musical variations. Beginning with musical reflections, wrapping around ribbons of intrigue and anticipation, mesmerizing the melodic revelation of the guitar solo, the Chapter IV: Sunset Interlude / Visions longly and measuredly prepares for the introduction of the vocals, complementing the epic saga with significance and certainty, accelerating the pace of musical narration, subordinating the sound to the vocal mood and instructions, while preserving the background nuances of the musical.
The keyboard symphony comes to the fore in the Chapter V: Crimson Dawn intro, then weaves together with the vocal and musical symphony in an enchanting dance of an inspired ballad. The Chapter VI: The End (Reprise) closes the album with a wistful sound of a sophisticated saga, in which guitar solos draw particular attention.