August 20, 2020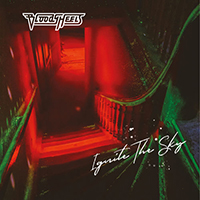 The title composition enters the Bloody Heels - Ignite the Sky album with passages of gentle melody, sometimes bringing energy and inspiration to the sound, and then complementing it with soft sensuality. The criminal confession phrase ends with a round dance of a gloomy guitar solo wrapping in a twilight haze around the Criminal Masterminds mid-tempo narration of the bitter vocal confession.
The No Matter begins with the accentuation of the title, then, after some preparation with vocal reflections, rolls in waves of inspired musical procession. Driving in beats of rhythmic march the Sugar & Spice adds a touch of emotional inspiration to the chorus. The bass guitar solo sets the mood for the intro, ending the beginning of the Farewell to Yesterday composition with a weaving of guitar riffs and progressively fractured drum parts.
The romantic atmosphere of the Black Swan ballad envelops in a sensual haze, evoking memories and reminding of past experiences. Whipping up waves of restrained drive the Stand Your Ground brings a rebellious mood with vocal phrases. The Thin Line song develops the motives laid down by the previous composition, dispelling doubts with the embodiment of the desire for adventure and exploration of the unknown.
The Silhouette again envelopes in a round dance of romantic impressions and sensual memories, bringing energy and shades of drive into the emotional whirlwind of the chorus. The soft melodiousness of Healing Waters intro maintains the inspired atmosphere, then complements the musical sound with undertones of restrained mid-tempo drive. The Streets of Misery concludes the album, hardening the musical drive on the verge of a mid-tempo thriller and giving the vocals a rebellious shades.