December 08, 2017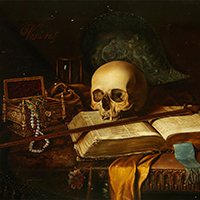 Dark gloomy motives in a mysterious atmosphere slowly and melodiously Pursuit the mind with gloomy doubts and vague thoughts. Then the solemn composition that starts Vaivatar - Vanitas album somewhat accelerates the pace, banner of sublime keyboards parties hangs over vocal phrases and instrumental motifs.
Hymn of Blood and PissMusic thickens in the gloomy charm of melodic melodies, the vocal pierces the musical pattern with its sharp screaming. Progressive shades flashes through keyboards passages and guitar riffs in instrumental bridges.
Soft, sensual piano in the Punishment Is Due introduction triggers a symphonic triumph, which is then supplemented by vocals and other instruments.
The driving and rhythmic symphony Hide and Seek fiercely and inexorably reaches from all sides, after the verse the main motive is shown above the instrumental palette, subordinating all the other musical components of this bright composition.
Unhuriedly and accurately, the Pioneer's Courage intro creeps into consciousness. Then this anthem, combining northern folklore motifs with orchestral classical musical moves, raises the pace of rhythm section closer to the end for the brief drive explosion.
Thoughtful symphony Sleep from its intro creates so sensual atmosphere of sparkling fog sounds like an unforgettable and fascinating instrumental ballad.
A soft, light and muffled Iphigenia introduction to the melodious keyboard passages reveals the pensive parts of the piano. Then the music in a severe, dense and confident march drives its steps along the chosen path of dark triumph.
The musical extravaganza Hekabe follows the moderate vocal phrases, the solo guitar leaves a bright unforgettable track of the keynote, pointing the way to the rest of the band members. In the instrumental part, instrumental motifs accelerate the tempo, leading to the final chorale.
The main motive slowly, thoughtfully and thoughtfully assembles into the introduction of the ballad Maria, enchanting with its seductive sound, after the condensation of the rhythmic background of the foreordained ghosts supplements vocal phrases. Waves of gloomy and mysterious instrumental motives are enveloped in an impenetrable Cold Rubble on Barren Soil fog, then from time to time they sweep the stream of drive, without interfering with symphonic melodies and vocal emotions appear in this enchanting gloom. Bewitching in ghostly dreams of magic instrumental sound saga Consolation closes the album, thoughtfully leaving by its soulful inspiration inspirational passages.