December 07, 2017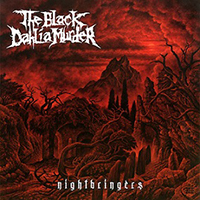 Furious pitch, nervous perception and symphonic introduction begins Widowmaker the albums Black Dahlia Murder - Nightbringers (Limited Edition) with with the furious pitch, nervous perception and symphonic introduction begins album.
Power, fury and unrestrained sense of lack of demand in Of God And Serpent, Of Spectre And Snake comes back us, no way! We listen and feel opposition! Drive and thought combine together, carrying through Matriarch vocal thoughts.
The title track Nightbringers, it is necessary to pay tribute, is interesting - it envelops the musical image in several styles - in part, in vain, but by many. Then everyone has his own taste. Uncontrolled power Jars does not accept the slightest explanation, vocal combines screaming, harsh and growling. The dispute between harsh, screaming and growling is very interesting Kings Of The Nightworld (as for me!) - who did not like it - let the cat faint of them!
Power and fury should be listened to - screaming in the Catacomb Hecatomb vocals dominates, but the growling shades very brightly.
Bright melody, unrestrained musical thoughts As Good As Dead - vocals unrestrained only calls for a while. We have to listen and accept, evaluate, perceive it - or not.
Restrained thoughts are thoughtfully attached to the introduction The Lonely Deceased - then an unrestrained drive removes all questions! Rage, power, drive expire in waves, giving the basis Gone But Not Forgotten for screaming vocals!
No, well, the gods pay tribute - it's sacred, but This Mortal Coil (Carcass cover) not so much for music is very different, the vocals are very! Rare case - or the cover better or the original? The Swarm (At The Gates cover) Listen, appreciate!
These guys in live performanses so cool! LISTEN, EVALUATE! Abysmal (Live), When The Last Grave Has Empted (Live).