December 09, 2017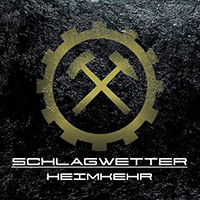 The title track begins the Schlagwetter - Heimkehr album, combining industrial motifs with rigid rhythmic phrases in verses, doubting brooding vocal reflections in the bridge before the choruses and driving the name rhythmic cries in the chorus.
Already in the introduction of the title Tanzt is repeated a lot of times, a thoughtful verse reflects on the ways of implementing this action, but in the chorus only requires - dance with me! Dance, only dance with me!
Electronic impulses in the Schlachthof introduction echo with a moaning lady, then a wave of drive creates a background for vocal stories. In the chorus, the vocals resonates with dreamy keyboard passages.
The thoughtful waves of the gloomy vocals of the Maschinen introduction creep into the verse with alarming shadows, the chorus explains who is the source of the prophecies of the coming changes.
Melodic ballad Herz steht still sensually and discreetly accompanies vocal revelations with symphonic accompaniment, fascinating in a musical way.
Uncertain drive, one by one, accompanying the repetition of the name 1Buckstuck, in the chorus completing the tact after the tact with keyboard passages. The main motive after the thoughtful introduction is fully manifested, in the chorus over and over again summing up - who is Zombie, why and how they exist.
Symphony in the Trane introduction hides on the background, letting the wave of drive but with the connection of the vocal part into the musical picture, these all musical elements unites in a single adorable image.
Industrial and electronic elements dances in a dark twilight dance Nachtschar, emphasizing and shading vocal reflections.
Again the symphony enchantingly encompasses the Narben introduction, then merging with instrumental drive and vocal reflections into the enchanting and unique ballad.
Vocals asks questions, instruments creates a playful and intriguing background, pensive vocal phrases are combined with this mysterious haze in the verse. In the chorus, the Parasomnia vocals rises over these clouds, urging you to follow it to the light.
Immediately presenting the main motive for the introduction Masochist completes the album, repeating at the end of the chorus the name.