February 27, 2018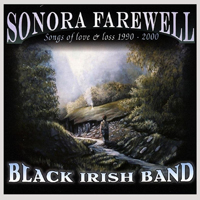 The playful atmosphere of gatherings in the pub, combined with the pleasant atmospheric lounge I'll Never Understand Women, which gives out the customary for the bar Dixieland with their improvisations, starts the Black Irish Band - Sonora Farewell album with a feast of fun.
Other vocals and dreamy musical motifs bring a sense of romance and lyrical meditation in When I Held You ballad, accompanying vocal phrases with gentle and sensual passages of an acoustic guitar.
The title track Sonora Farewell continues the lyrical mood, but changing the vector of musical orientation - lyrics in spanish, the atmosphere of rest in the evening cool after hot everyday life and the scorching sun.
A thoughtful fog of reflection brings thoughts back to the British fog, wrapped in a warm blanket behind a misted window, meditating on Georgie theme.
Dissipating dampness and fog I Know creates the atmosphere of a village festival, in a yawning bustle, a tired bard reflects on wanderings and travels, a string orchestra accompanies his memories.
Having somewhat calmed down from the holiday and fun, the memories of youth and the new perception of youthful maximalism are combined in memories, about when we was16.
Unconditionally admitting to the love of the object of adoration, rapidly and hastily accenting Baby I Love You in each stanza of feeling to rush out, then the pipe raises its solos over the main musical canvas and vocal revelations.
But the feelings can form as a proper solitaire, then Lovin's Easy and everything is successfully folded in sensations and relationships, serving as an excellent example of the surrounding and the subject of admiration and envy.
The solo of the harmonica begins Disappear song, then the thoughtful reflections in the dark mist end with sensual and soft guitar passages, like sparkling jewels giving a bluesy ambience to the blues atmosphere and vocal duet.
A pensive ballad that The Friends I Knew enters with a keyboard solo with sad passages of the piano with the introduction of the vocal in combination with key reflections recalls the friendly feelings and memories of friends that remains forever and forever. In the instrumental part, the pipe solo complements the memoirs with pensive and calm notes, completing the album with meaningful reflections.