May 06, 2021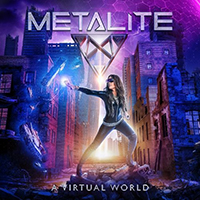 Announcement of activation of all systems begins the title composition of the Metalite - A Virtual World album, then hastily following in the electronic tunnel of overflowing musical and vocals passages. The Cloud Connected song again and re-emphasizes its name, indicating - on the necessary features of existence in the modern world. Inspirational vocal entries overlook the foreground of the musical image of the Talisman track. Sometimes bright keyboard notes complement the musical atmosphere of sparkling musical influence.
Playful musical notes of the Beyond the Horizon electronic impulses are involved in the memory of dance music of the 80s of the last century. The Peacekeepers song continues such a style, more inclined to emphasize the name in the chorus and the artistic sound of the guitar solo of instrumental part. Several pacifying rapidness, The Vampire Song fascinates us with a romantic ballad.
After the intriguing entry, the whirlwind of emotional inspiration carries to the uncontiguous race of the We're Like the Fire musical stream. Music becomes complicated in a progressive dance, gluing with vocal inspiration in a charming whirlwind, maintaining the mid-tempo structure of the Artificial Intelligence musical composition.
After the intriguing doubts of the Alone song's intro, its music envelops all around with the charm of the sound of romantic ballad. The Running composition carries the listener with a bright flow of musical sound, alternating musical variations with the influence of different styles and genres, anticipating the Synchronized final song of the album, finalizing the creative perception of futuristic elements of the surrounding world.