April 26, 2022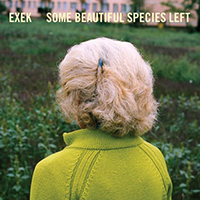 Musical mystery and vocal appeals are intertwined in the bewitching beginning of the Exek - Some Beautiful Species Left album, making up the bewitching intrigue of the musical narration of the Hobbyist composition. The rhythmic pace of the Lobbyist track evokes a certain atmosphere of confidence, but the vague vocal reflections in the background give somewhat unexpected shades to the musical sound.
The music and vocals of the Commercial Fishing song weave the mystical mystery of an illusory ritual that takes the listener into the expanses of mystical revelations, developing this musical style in the sound of the Iron Efficiency composition with mysterious vocals reflections entwined with sacred musical mystery.
Vocals and music enter into an argument, shrouded in twilight mystery of the enigmatic passages of the Plastic Sword Retractable track, receding before the symphonic appeasement of the Some Background suite, complemented by vocal narration.
The persistence of the main motive then gives way to the vocal duet, which moves to the fore of the Unetiquetted musical image, anticipating the ritual tunes of the How The Curve Helps final composition.