April 26, 2022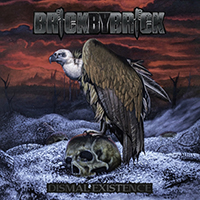 Severely, powerfully and unrestrainedly, the Evil Remains (feat. Chuck Billy) composition begins the musical narrative of the Brick By Brick - Dismal Existence album, emphasizing the role of a guest vocalist in the vocal part and rolling in a harsh twilight of a significant solemn anthem. The drum roll of the introduction ends with the confident tread of the Infiltrate march, crowning the musical waves with vocal phrases.
Soaring with acceleration and drive, the Full Of Hell song then elevates the vocal significance to the top of the musical image, then soaring with a twilight whirlwind and a stubborn tread of the sound of the From My Eyes significant and lingering march. The Hunted composition begins with a vocal discussion, then driving in a rhythmic tread of a harsh sound.
Speeding up the sound in annoying choruses, the Can't Be Broken song pushes the vocal part to the forefront of the sound, entering the sound of the Whiskey Is The Truth composition with sonorous guitar riffs that recreate the peculiarity of musical perception. The guitar solo of the Liar, Deceiver intro comes to the fore, building the musical essence of the main motive.
Conversations and disputes suggest further development of the Loyal To The Grave composition, developing into the emotional indignation of the Tearing Down song and expanding the stylistic boundaries of the album with its final Just Look Around (feat. Lord Willin) composition.