August 24, 2019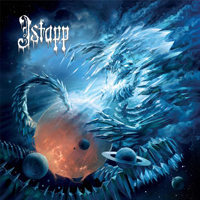 The fierce scream of screaming is intertwined with the enchanting melody of a guitar solo, then intertwined in the bewitching dance of the Eternal Winter verse, transformed by sparkling charm with clean vocals in the chorus. Once again enchanting with a melodic guitar solo to the introduction, Dit Solen Aldrig Nar composition pensively walks in the verse, continuing the Istapp - The Insidious Star album with epic trends of the musical canvas, weaving in the chorus charming lace from screaming and clean vocals. This composition changes the lyrics from English to the native language of the group, continuing this style in the next composition Natten Da Gud Blundade, enveloping the phrases of pure vocals, introducing the rays of northern fairy tales, whirlwinds of blizzards and storms. Then screaming transforms the composition with a wave of drive.
Returning to the English lyrics, the Snowball Earth song envelops vocal phrases with exciting vortices of the main motive, emphasizing its title in the chorus. But Muspelheim again brings into the album the trends of native lyrics, creating a stern majestic mid-tempo musical thriller that envelops stern vocal phrases with sparkling vortices of melody.
Returning to English lyrics, The Alliance Of Cold envelops vocal phrases with a cover of musical greatness, walking on the verge of an average pace and rapid drive. The Insidious Star title track mesmerizes with dark solemnity in the verse, pulsating in marching rhythm, complementing the grandeur of the anthem in instrumental bridges and choruses. Then clean vocals complement the composition with wise meditations.
The final part of the album returns to its native lyrics, first combining the rapid drive of the verse with the reverie of Vita Doeden mesmerizing chorus, then enveloping with the Orrekulle anthem of the northern expanses with inspirational and severe musical covers.