August 07, 2019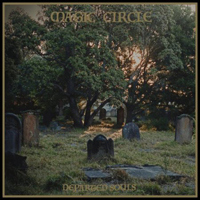 The title track begins the Magic Circle - Departed Souls album with a viscous twist of a gloomy musical haze, then the vocals ascend in this twilight with emotional bursts, shrouded in swirls of painful musical chains.
Tearing the gloomy shackles and entangling branches of musical twilight, the intro and vocals of the I've Found My Way To Die composition tend to break out of their entangling web, but the musical lace intertwines with vocal phrases in an enchanting dance.
Ancient legends entangle the Valley Of The Lepers vocal part with obscure ghostly vortices, completing the composition with magnificent passages of musical celebration.
A vague anticipation ends with a chime of an acoustic guitar solo, then the vocals complement this romanticism with their own phrases intertwined in the A Day Will Dawn Without Nightmares bewitching and mysterious ballad.
The pulsating drum roll and musical dance precede the development of the Nightland inspired musical anthem, marching in vocal phrases along the paved musical path.
The thoughtful musical narration of the Gone Again song introduces an incredible amount of mystery, entangling the mysterious perception with obscurity. Further, the instrumental passages of the Bird City Blues composition introduce the influences of British folklore, giving inspiration to the beginning of the final composition of the album Hypnotized with the wonderful acoustic chime of guitar strings.