May 23, 2023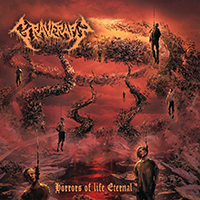 A demonic scream foreshadows a twisting viscous guitar introduction, foreshadowing the twilight rolling sound of the Valley of Red composition, which begins the musical narrative of the Graverape - Horrors of life Eternal album with a gloomy musical story, accelerating the sound with the introduction of the vocal part.
The music and vocals of the Desecrated Kingdom song are intertwined in a joint dance that combines playfulness and drive in a single musical stream.
After the introduction, the vocal part of the Horrors of life Eternal title track's musical story stubbornly, confidently and persistently comes to the forefront of the musical image.
Whirling the whirlwind of the guitar solo in the introduction, the Choke on Piss composition whirls in a whirlwind of stubborn guitar frenzy that wraps around the vocal part. But now the thoughts of the introduction pacify the tempo with rhythmic slowness, but wraping in a ghostly haze with the introduction of the vocals part of the Twist of the Knife musical story, but then againg rolling'on a waves of a harsh drive.
The twilight mystery of the ghostly haze from the mysterious catacombs and dungeons with swarms of insects and bats develops in the assertive march of the musical tread of the For Their Flesh composition, then varying the tempo in the rapid drive of an unrestrained chase. After preparing the musical canvas in the Lifeless Absurd introduction, the vocal part stubbornly and confidently marches along the musical path rolled out by this canvas on the eve of the Serenity in Death twilight fairy tale, which ends the album with mysterious omens.