May 24, 2023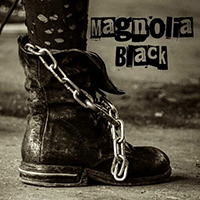 The music rolls out the canvas of the unity of musical styles, along which the Drawn by the River musical march that opens the musical gates of the Magnolia Black - Magnolia Black album then marches, raising the banners of vocal inspiration. Then enveloping the listener with enchanting veils of memories of native places and turning to country style in the sound of the Black Eyed Reaper song, then driving in the rhythmic tread of The Unfulfilled Dreams assertive march before the rebellious appeals of freedom-loving vocals phrases.
After the intriguing twilight of the introduction, the vocal part of the singing lady comes to the fore of the Gettin the Gain twilight musical tale with futuristic elements and samples in sound, retreating before the charming motifs of the music and vocals of the Wild Flowers romantic ballad. The Good Light Hearted Days song returns to acoustic peace, combining the distorted vocal mystery of the introduction with the bardic melodies of the musical story.
After preparation in the intro and chorus, the chorus of the Black Cadillac composition accentuates the name in the chorus and condenses the rhythm sections using a double drum bass pedal. Combining the musical passages of traditional rock with their futuristic musical realization, the Under the Pines musical composition mixes them in a kind of stylistic cocktail. The Hunger and the Crones musical story brings the vocal part to the forefront of the musical image, anticipating the End of All Dreams pensive ballad that concludes the album, bringing shades of synth-pop musical style to its sound.