May 22, 2023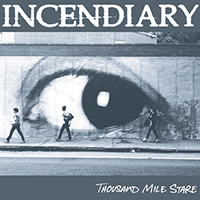 Music and vocals are intertwined in the joint pressure of the rebellious procession, twisting their parts in a single assault on the Still Burning march, starting the musical procession of the Incendiary - Thousand Mile Stare album with the combative pressure of the unity of music and vocals. Then the bright guitar solo of the introduction weaves the lace of the Hanging from the Family Tree main motif, then rolling out its canvas before the rush of the vocal step, rapidly accelerating the pace and calling for an assertive tough drive.
After a brief preparation for the introduction, the vocal part with rebellious indignation comes to the fore of the vocal statements of the Front Toward Enemy assertive march, transforming in a whirlwind of furious anger of guitar passages, then developing in a sparkling whirlwind of musical variations of the Awakening composition, wrapping around the vocal tread with sparkling blizzards of musical variations. The Product Is You track continues the dominant role of the vocal part in the musical image, complementing the vocals recitative with musical support and background melodies of vocals associates.
The sparkling guitar solo of the intro intrigues with the expectation of further development of the components of the No Purity composition, driving in the further path with a rhythmic musical march for vocal recitative, entwined with a background of guitar echoes, emphasizing the further sound of the Hard Truths Cut Both Ways battle march with rhythmic drum roll and combative vocal assault. But then the music and vocals are intertwined in a joint exciting dance of fierce drive and indignant anger in a single musical stream of the Sell Your Cause musical thriller, sometimes emphasizing the vocal significance of the marching step.
Vocal rage with its narration of the Fact or Fiction story begins the musical rush of the final dilogy, culminating in the Poison twilight musical tale with rhythmic pulsations in the background and an accelerated guitar solo that precedes the introduction of the vocals story.