January 05, 2021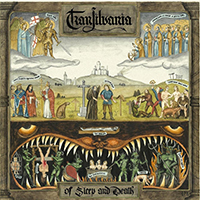 Slowly and intriguingly introducing mystical mystery with the development of the introduction, the Opus Morbi song enchants with an introductory guitar solo, bringing the melody of the charm of ancient fairy tales. But the vocals' intro overwhelms with frantic drive, invoking the music in a race of meteoric power. Whipping up a whirlwind of guitar solo, the Hekateion track then builds up the fierce fighting spirit of a frenzied musical thriller. The Transilvania (Aut) - Of Sleep And Death album's title track begins with a drum roll. then a vocal scream appeals to the unrestrained impetuosity and dense rhythm of musical pussages, then crowned with vocal fury.
Beginning with the mid-tempo sound of the epic saga, the Lycanthropic Chant then introduces the abstracted inclusions of musical artistry with guitar notes, developing the main motive before the vocal intro. By pumping waves of unbridled drive with riffs of guitar rhythm, the guitar solo brings artistic flair to the sound of the Vault Of Evening musical thriller. Driving in the rhythmic passages of the procession of the austere march, the Heart Harvest combines the atmosphere of a dark anthem in vocal emotions and musical variations.
The vocal immediately comes to the fore of the Mortpetten twilight dance, retreating for a while before the pressure of the instrumental bridge, but returning again in the final fragment. The acoustic guitar solo brings epic romanticism into the intro of the Underneath Dying Stars final composition of the album, then continues with the bard's tunes, but then hardens the sound while maintaining an epic essence.