January 05, 2021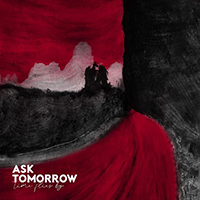 The music enters the sound of the Let's Drink A Beer composition with joyful playfulness, but the vocals bring a shadow of doubt, combined with the rebellious playfulness of the music in the chorus. The Ask Tomorrow - Time Flies By album's title track complements vocal doubts with progressive artistry of musical variations and mesmerizing pulsation of guitar riffs.
The unhurried pensiveness of the musical passages complements the gentle vocal phrases, combining in the sadly romantic atmosphere of the Desperate Prayer ballad. But the Call Me Crazy song dispels the sadness, rolling with rebellious musical waves and outraged vocal proclamations, combining them in a bright rebellious chorus. The Battlefield continues the musical disagreement with the rhythmic pulsations of a battle march, wrapping vocal phrases with harsh guitar solos.
Progressive rhythmic the Highroad intro's variations give way to the relentless pressure of a guitar solo and a vocal drive for adventure. The Devil Inside indicates a certain mystical mystery of the sound, then elevating the vocal phrases with rhythmic strokes of the march to the top of the musical image. The Mask Off brings the final touch to the album, combining vocal impatience with rhythmic musical accents.