May 24, 2022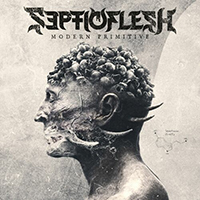 Mysterious guitar chords bring mystical echoes to the sound of The Collector intro, then weave these ancient musical echoes into a harsh and stubborn procession of the main motive, developing a similar musical style in the sound of the Hierophant bewitching fairy tale, which continues the musical narrative of the Septicflesh - Modern Primitive album with a bewitching atmosphere of dark fairy tales.
The mysteriousness of the sound of musical motives of the introduction builds an intriguing atmosphere for the procession of the Self - Eater vocals story, then again and again artistically and bewitchingly varying the rhythm. The Neuromancer intro weaves an exciting lace of musical variations, taking you on a journey through mystical mysteries and mysterious ancient prophecies, bringing thoughtfulness into the phrases of clean vocals.
The Coming Storm majestic symphony wraps the storyteller's vocal narrative in a veil of artistic musical variations, combined with the vocals story in a captivating musical flow. Entering the chorales of singing maidens into the musical atmosphere of the A Desert Throne dark anthem, music and vocals then intertwine in a bewitching dance of bewitching magical artistry.
After a majestic intro, the Modern Primitives title track builds a musical structure based on the argument and dialogue in the chorus of clean vocals and growling, coming to the fore of the musical image in the verse, then appearing in the dominant position of the confident and majestic procession of the Psychohistory dark anthem, using the support and complement of the rhythmic militancy of the musical march, anticipating the twilight procession of the album's final composition A Dreadful Muse, that is varying rhythm in the artistic mystery of musical sound, entwined with veils of mystical mystery.