May 24, 2022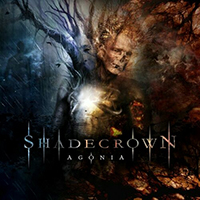 The twilight atmosphere of thoughtful sad romance envelops the sound of the Eremophobia intro with thoughtful expectations, anticipating the further development of the musical thought and vocal discourses, anticipating the continuation of the Shadecrown - Agonia album with the dense and tough persistence of the powerful musical drive of the Led Astray composition with bewitching guitar solos, instrumental vocal bridges and emotional couplets. A soft acoustic guitar solo creates a brief intrigue in the intro, but then the grim combativness of an assertive rhyme brings into the sound of the Ghostlike Existence song a bewitching unity of musical contrasts.
The music and vocals create the combative atmosphere of the Far off Innocence verse, raising the banners of dreams with phrases of dreamy clean vocals. Then the sound of the Walk Through Hell composition builds its structure based on the dialogue and dispute of vocals styles with appropriate musical support. The Longing for Sleep majestic ballad captivates with its incredibly melodic introductory guitar solo, which takes you to the vastness of dreams and romantic temptations.
Exploding with waves of harsh drive in the introduction, The Ruins of Me solemn anthem then captivates with a mid-tempo musical procession with a storyteller's narration, anticipating the charm of the sound of the Tear-Stained Heart and Silent Hours musical fairy tales and the mysteriousness of the musical atmosphere of the Drown final composition of the album.