April 22, 2018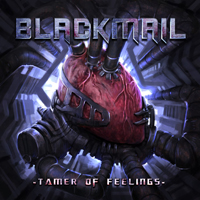 Rising from the first moments to invisible heights, then the Say It Again introduction vaguely rushes in search of the main motive, looking around on the way to the introduction of vocals, calling for a rapid flow of musical delights. Then the vocals from the furious harsh turn into a thoughtful recitative, invoking lyrical thoughts, similar to a romantic ballad. Instrumental bridge rolls a measured march, the next verse again lifts the canvas of progressive drive, culminating in a guitar solo, followed by another thoughtful reflection.
The influence of Broadway plays and playful operetta Demonization continues the Blackmail(UKR) - Tamer Of Feelings album artistically and playfully twisted in the fog of the main motive. The vocals get tougher and sterner, combining a close-up to growling harsh and playful clean vocal. In the mysterious atmosphere of the theater stage demons sneak invisible in the shades, hiding from prying eyes in the shadow of costumes and hiding in a heap of scenic accessories and scenery stuffs.
The mysterious romantic motive crawls with an obscure fog, in which the guitar solo shines with precious brilliance. But the Plastic Eyes introduction is completed and the wave of drive preserving an encouraging and bold mood is carried away by a frantic flow of instrumental frills, the severity of the vocals grows, rage and anger multiply. But the mood of the introduction returns again softening the sound before the next stream of frenzied rage, carried away in a dark stream of bright instrumental decisions.
Mysteriously and artistically playful Mystical Art sound transforms the main motive, supplementing it with waves of violent vocal at times, then with jocular shades of clean vocal. After these mysteries and jokes, music turns into a romantic ballad, the vocals anticipate with reflections a calm and majestic guitar solo, which is then supplemented by a wave of drive and hard vocal phrases.
The artistic introduction anticipates a furious drive, with incredibly hardened vocals, angrily and powerfully promoting an energetic musical wave, breaking about the pier of romantic meditations, supplementing the composition with dreamy reflections and perfectionist aspirations. Combining so different in its contrast parts, creating such a versatile musical canvas the War Of Hate composition completes the album, encouraging - to hear musical artworks of these musicians in the future.