April 23, 2018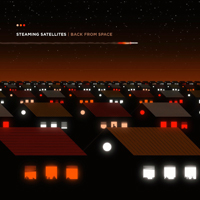 Slamming in the pulsating intro in the verse Put It Down complements the sound with mysterious cosmic rays, invoking a distant mysterious background music, starting the Steaming Satellites - Back From Space album with a very intriguing and artistic sound.
The mysterious fog of the restrained romance continues the music with a mysterious fog of reflection, raising in the Shout It Out chorus the desire to return to the roots above all other thoughts, as if discarding the delusion.
Relying on the curls of the main motive, the title track Back From Space slowly and thoughtfully develops in verses, supplementing the sound with charming instrumental frills in instrumental bridges, then raising the emotional level of the vocal part to unattainable heights.
Dismissing doubts and cautiousness Major Crime plays playfully in a playful sound, twisted in mysterious vortexes of inspired musical decisions.
After gay playful joys, wise minds begin - narratively and thoughtfully sounding in Electrify, painfully and tiredly in thoughtful reflections Call Me Whatever. So many thoughts can be developed about being.
Disturbing motives echoes the Tiny Monster introduction, then vocal and instrumental phrases lead a mysterious and enigmatic musical cloth, enchanting with artistic keyboard passages.
The keyboards part raises the Silver Lining main motif in the clouds, mysteriously twisting around the vocal phrases, creating an artistic atmosphere that does not compel listening to the mystery of the charm of musical freedom. Persistent and demanding vocal phrases To Make It Through seems to serve as an introduction to the Back To The Roots songs, ending the album with reflections in a calm tone, creating a cozy atmosphere of rest after so much has been done - that not everyone will remember.