May 15, 2019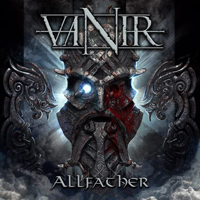 Significance wraps the stern greatness of the beginning of the intro, then rolls out the sparkling canvas of enchanting melodism, anticipating the vocal entry of the Vaeringjar song. Musical significance rises in the bridges, comparing the contrasts of northern folklore, embodied in the Vanir - Allfather (Japanese Edition) album. Then mid-tempo greatness of the Svoldir song rolls in waves of memories of ancient legends, like shadows of ancestors arises from the oblivion.
Rolling a wave of the main motive in a couplet, in a bridge and chorus, the The Final Stand composition transforms its sound with significance and grandeur.
Even more praising the significance, rolling waves of an irresistible, fearless Ironside march somewhat slows down the sound of an average tempo, creating a kind of harsh ballad.
The belligerent mood, the willingness to stand up to the last and the unrestrained strivings to fight and fight for the principles and the native shrouds the sound of the Shield Wall composition. Comparing prowess and majesty, one combines a battle march with a severe growling with romantic tunes of clean vocals, weaving together the Fejd musical canvas from a battle march and a romantic ballad. Raising homage to musical legends, the group brings its stylistic inspiration to the rethinking of the Thor - The Powerhead (Manowar Cover) song, creating a fascinating musical canvas.
Inspiring to the development of the mysterious intrigue Bearer Of The Word develops the story, intriguing by the enchanting mystery of ancient legends. Then Ulfhednar continues the narrative with the militant injection of twilight waves, enveloping the vocal narration with an epic canopy. Returning to the memories of the ancient tales of the northern peoples, Einherjer weaves so fascinating whirlwind from northern folklore and metal music drive. Weaving a fascinating lace of a fairytale narrative, Grafvaerd introduces significant trends in vocals screaming into the composition, only occasionally supplementing them with growling. In instrumental bridges and bridges, growling sometimes dominates, which complements the charming musical image. Rethinking the Flames Of Lindisfarne (Re-Recording Version) (Bonus Track) completes the album, paying homage to the music trends and fans.