February 03, 2020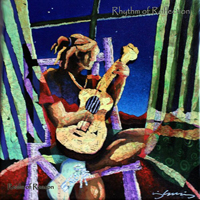 Slow musical reflections complement the nervous A Moment In Time vocals phrases that appeal to the memory, intertwining with them then in the enchanting chorus dance. The intriguing ripples of No Turning Back verse continues the Realm Of Reason - Rhythm Of Reflection album, ascending with an inspired whirlwind of sparkling admiration in the chorus.
The meditation of the For You inspired ballad elevates a passion-filled chalice in honor of a sweetheart, captivating with a bewitching sound. But after a romantic ballad, the Playing With Fire furious stream of unbridled drive follows, expanding the album's stylistic framework, giving the musical and vocal passages shades of heavy metal music. Then, after cosmic notes of introduction and shades, lounge of the Welcome To My World start continues to expand the stylistic framework of the album, focusing the verse on vocal recitative, returning to the inspired lounge in the chorus.
A deep pulsation with a dominant bass guitar, over which a pensive vocal whisper ascends and majestic keyboard sparks sets the beginning of Someplace Safe composition, exalting the solemn banners of the hymn of melody and charm. Returning again to the pulsating modernist feeds Truth Be Told combines the appeals of epic trends with the modernist recitative of vocal reflections. However, it should be noted that the connecting link of these fragments are mesmerizing tunes. Returning to seductive promises, The Road romantic ballad captivates the listener. Then the Take Me Down song combines sensuality and power, weaving a lace of emotions and drive in a very memorable and exciting balad.
The ingenuous whirlwind Descent Of A Hero of heavy metal brings relief to the album, adding some notes of glam rock to the chorus. Well, right and good rock can't do without blues - It's True brings this style to the album. The completion of the album The Shadows (They Live) fully facilitates the musical sound, intertwining southern rock with glam rock.