February 03, 2020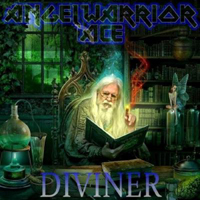 Intro weaves a bewitching intrigue from the epic echo of celtic folklore motifs, a symphonic background and wordless chorales and a storm with bad weather, smoothly passing into the introduction of the Angelwarrior Ace - Diviner album's next composition Ruler of the Sea, fiercely harsh gloomy drive and furious vocal tunes piercing salty sea winds. The proud King of All Kings saga rolls waves of worship, the vocals are transformed into a hoarse rattle, departing from time to time in front of the rolls of a proud musical canvas and sparkling guitar solos. Driving through the waves of a pulsating march, as if a procession of giants drives their steps into the stones of road, Power Machine continues with the epic inspiration of a majestic ballad, enveloping dreamy vocal reflections with bewitching ribbons of a bewitching guitar solo, but retreating before the persistence of a pulsating march and deadly whirlwinds of a fast drive to repeat this alternation.
Exploding with the fierce whirlwinds of drive Magic Spell cuts through the brooding atmosphere of the epic sagas of the album with a fierce musical action movie, hardening the vocal part with growling, but dissecting its atmosphere with furious screams. After such frenzied fury, symphonic suite Divine Serenity is added, supplemented by a background pulsation of the rhythm of the section and then creating a majestic background for grating guitar solos and vocal reflections, starting with muffled reflections of pure vocals, sometimes exclaiming in emotional zeal before screaming. One of a Kind vocals confessions are shrouded in a shroud of dense musical support, powerfully and severely enveloping the vocal part with an impregnable tunnel of restrained drive, sparkling with a saddened note of guitar solo.
Starting with the emotional screech of clean vocals, Revelation War then builds his musical narration on the harsh tunes of deep growling, which summarize the emotional screeches. After painful deliberation, Burning Whip continues the conceptual tale of the album with a fierce action movie, leaving vocal thoughts against the background of the musical image, complementing the furious guitar vortices.
Setting the mood for the Song for the True main motive with the guitar solo of intro, waiting for vocal permission for its development, complemented by complex progressive knockdowns in the bridges between the verses. Wordless fairies supplement the mystery of the symphony with their choirs, then the storyteller escalates the narrative of his Warriors of the Night story.
The pulsating waves of the Visions of the Future main motive complements the wordless squeals that reveal the visions of the future, then the muffled vocal reflections complement the sound of some mystery. The phrase of farewell begins symphonic suite Edengate, complemented by rare vocal phrases that accentuate the name and dreamy tunes of pure vocals. A very peculiar composition Warrior Blues completes the album, mixing a blues romance and a heroic epic in a single musical cocktail.