May 04, 2022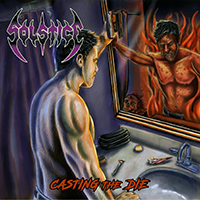 After the intriguing and mesmerizing guitar solo of the introduction, the music takes on the shades of a majestic anthem, but then the vocal frenzy takes over the reins of the sound of The Altruist composition, immediately moving to the forefront of the Transparent rebellious march, continuing the Solstice (USA) - Casting The Die album with an atmosphere of adventurous frenzy. But then the guitar solos of the instrumental fragment fascinate with artistic melody and captivate to the realms of dreams.
The majestic and meaningful sound of the musical passages of the introduction anticipates the unity of the Who Bleeds Whom furious vocals and musical drive in a single musical whirlwind. The Lifeline medium-tempo composition will inspire a stubborn step of powerful drive in the unity of music and vocals, decorating the sound with the charm of the fascinating guitar solo of the instrumental part.
Capturing in a furious whirlwind of unrestrained drive, the Ignite song rises in a swift whirlwind in this aspiration and the Outlast artistically and mesmerizingly varies the rhythmic structure and stylistic shades in its sound, embellishing this unity with impressive guitar solos.
Music and vocals alternate in the foreground of the Seven musical image, maintaining a commitment to the exciting musical axis of the main motif. The Embellishment Exposed composition confidently and persistently brings vocals to the forefront, complementing it with impressive, successful and musically sounding support.
Persistently, persistently, and unquestionably, the Cast The Die battle march drives the rhythmic piles of the intro, somewhat accelerating the sound with the entry of vocal rage. The giard riffs of the Eyes Sewn Shut composition immediately twist the melodic spiral of the main motif, then wrapping around the vocal phrases with sparkling musical changes anticipating the twilight mystery and furious fury of the rapid drive of the Scratch final song of the album.