May 04, 2022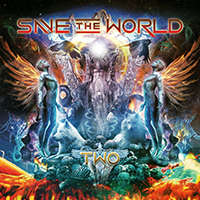 After an aratly and obscure whisper, the Camera Obscura composition artistically and progressively rolls out the musical canvas for a meaningful vocal narrative, concluding the opening part of the Save The World - Two album with a speech with meaningful promises. Rolling waves of restrained drive, the Bones song crowns them with background keyboards embellishments. The sparkling sound of musical inspiration is combined with the melodic artistry of keyboard passages and vocals charm in the sound of the Miss Muse musical fairy tale.
After an intriguing introduction, the vocal part is brought to the forefront of the Defenders of the Faith musical image, continuing the musical narrative of the album with the fascinating melody of the Daphne Blue romantic ballad, which gives even greater sensuality to the sound of the When Amanda Hits the Stage musical composition bringing echoes of the 80s of the last century to the sound.
The assertive sound of the melodic Man on an Island composition ends with a brooding and dreamy Longer ballad, anticipating the assertive vocal sound of the Denslow Park composition, supporting the confusion with pulsating guitar riffs and final accents.
After an intriguing introduction, music and vocals are intertwined in the dance of the Automaton composition. Beginning with Latin enigmatic incantations, the Illuminati song then rolls out a melodic musical canvas on the path of the vocal procession, anticipating the exciting and diverse sound of the album's Who's That Girl final composition with true rock'n'roll spirit.