May 04, 2022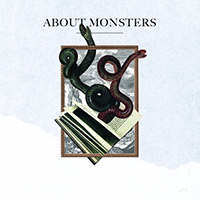 After an intriguing introduction, vocals and music intertwine in the whirlwind of the High composition unite are opening the sound of the About Monsters - About Monsters album with a whirlwind of exciting musical variations. The pulsating guitar riffs of the Escape intro are crowned with the emotional vocals reflections in the verse, exalting the melodic charm of the chorus on the banners of impressive inspiration.
The assertive frenzy of guitar riffs tames its assertiveness in the Lemon verse due to vocal doubts, but combines with vocal emotions in the joint ascension of the chorus. Beginning with a mysterious intrigue of musical artistry with vocal reflections, the Stop The Clocks composition completes the sound with a drive with vocal rebelliousness, anticipating the development of a similar style in the Monster song - which can be considered as the title track of the album and its most hit and successful musical artwork.
Music and vocals are woven into the fascinating sound of the No Air romantic procession, captivating with bright preparation for the upcoming celebrations, but the Got The Way composition brings notes of reflection, doubt and uncertainty to the sound of the album. The rhythmic procession of the Shadow march drives the steps of the path of musical variations before the vocal narrative of the singing lady.
Immediately bringing the vocal part to the forefront of the Deeper musical image, vocal confessions prepare for the ascension of bright and sparkling musical banners. The Know You composition rolls with waves of medium-tempo musical drive in anticipation of vocal reflections and the mystery of the Brand New final song.