July 04, 2020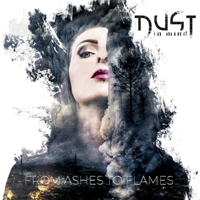 The title track begins the Dust In Mind - From Ashes to Flames album with a majestic anthem, in which some echoes of industrial rhythmic pulsations are heard, crowned by the charm of the singing lady's vocals, which are sometimes complemented by male vocals on the background, showing distorted phrases of muffled harsh vocals. The This Is the End main motive escalates the twilight passages, raising alarming cries of keyboard pulsations, complementing the alternation of clean male and female vocals in verses, combining them into a duet in the chorus.
Pumping up the waves of drive Open Your Eyes then rolls the path of rhythmic pulsations, raising the vocal part to the top of the musical image, supplemented by the mysterious electronic pulsations of keyboard variations. The Point of No Return is beginning with the muffled mystery of the mysterious melody, it then hardens the rhythmic essence of the sound and enters into the vocal part by the male recitative, then weaving the musical variations and the vocal part in an enchanting dance. Sharing fragments of a romantic ballad with vocal alternation the Another Dimension mesmerizes with melodic mystery.
Soft instrumental composition Day 0 as if divides the album into two sections, continuing with thoughtful melodic covers of the My Quest for Recognition ballad, alternating and combining male and female vocals in a mysterious sound artistry. A keyboard solo weaves in a gentle waltz with A New World vocal phrases, then introducing an explosion of disturbing emotions by the male vocals passages. The I'll Never Forget song complements the album with industrial trends and shades of electronic music, hardening the vocal part with the angry harsh of male vocals. The Siana continues a similar musical style, alternating the fury of male vocals with the tenderness of a singing lady. The album closes with the Grandma pacifying instrumental composition, introducing some echoes of the lounge.