December 09, 2017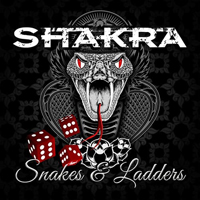 Intriguing with the fog of ancient legends, Cassandra's Curse composition begins the Shakra - Snakes & Ladders album in a gloomy verse, creating a foundation for a subsequent musical and vocal splash in the chorus.
The sharp changeable vocal phrases of the Friday Nightmare verse are aligned into a single stream of drive in the chorus.
The title track Snakes & Ladders immediately builds the palette of the main motive, inspiring it with a melodic sound, then rhythmically in the verse and bridge pounding the sound with phrases, bringing in a short bridge to a melodic, memorable chorus that appears on the foundation of the main motif.
An alarming mist covers the sound of Something You Don't Understand, but encouraging waves of musical thought create a competition of tragedy and hope, adversity and readiness to get rid of them.
Hope triumphantly ascends the steps of the musical Olympus, because The Seeds will rise, growing into enchanting and creative beings.
In the first verse asking the question for the question, then the chorus Rollin' answers them, rolling over again and again its answer.
The Medicine Man main motive persistently follows the musical and vocal changes, restrainedly obeying the vocal phrases - restrained in the verse, brighter in the chorus.
The rebellious free rock'n'roll spirit combines with a touch of anxious notes, judiciously and cautiously expresses a lot of emotions in the I Will Rise Again vocal part. In the instrumental part, a pensive guitar solo creates a mesmerizing fog for the subsequent wave of mid-tempo drive.
Charming melodies pensively and dreamily combines in a romantic ballad Open Water, enchanting with a gentle and soft atmosphere of thoughtful experiences.
Powerfully, driving the first measures into the The Race Of My Lifemusical canvas, a significant and important musical story The Race Of My Life builds its own way, one that is right for achieving a goal that is so necessary for the future.
Waves of anxiety and impatience Fire In My Veins flickers vaguely in the verse music, rising to the top of readiness and uncontrollability in the chorus.
Starting as a country-style ballad The End Of Days completes the album with experiences in which, after entry, the bass guitar thickens and compacts the background music.