August 12, 2019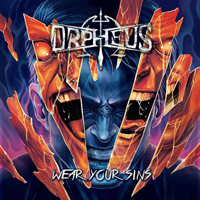 A mesmerizing guitar solo of the introduction envelops in ghostly images of cloud castles, introducing notes of inspired romance in the further course of the Lighthouse song. Then a stern growling goes to the forefront of the musical image. Chorales resembling church songs ends with a wave of rapid drive, breaking the musical narrative of the Orpheus Omega - Wear Your Sins album by an unbridled race with intertwined screaming and growling in the In Time vocal part, which is rebuilt in short bridges with clear vocals.
A whirlwind of bewitching guitar notes reminiscent of a swarm of insects lays the foundation for a powerful and harsh narrative of a mid-tempo anthem Suffer that accentuates rhythmic steps with a vocal narrative based on deep growling. But then the composition somewhat accelerates the pace, preserving the melodic structure.
The mesmerizing haze of the introduction is transformed into the main motive, throwing a blanket of disco 80s on the musical narrative, transforming the verses sound into a coupled muffled growling, raising the banner of the When Hope Gives Way To Reason title in the chorus with emotional phrases of clean vocals.
Alternating harsh and significant growling phrases with inspirational dreams of clean vocals, enveloping vocal combinations with sparkling lace of the Insinerate mesmerizing music. Unblinking continues the musical narrative of the album, exploding with a bright stream of musical waves of the main motive, discarding sensual tenderness and introducing the epic prowess of musical changes. Dancing and twisting musical passages around vocal phrases, the music of the Swim In The Black composition again weaves its canvas into alternating clean vocals with growling, combining them together in a chorus. The harsh interpretations of traditional metal, which were given artistic influences in the introduction, precedes the further development of the Wash It All Away composition, which mysteriously and unexpectedly changes the rhythmic structure of sound, progressively complicating the musical image. After medium-tempo variations, Distorted Words is carried away in an uncontrolled drive race, intertwined with bright ribbons of guitar passages, restraining the swiftness of the musical stream with the verse's vocals, but in the chorus, clear vocals intercept the reins of music of a musical path. Title track Wear Your Sins completes the album with an epic solemn anthem rolling the tales of ancient legends and forgotten tales.