August 13, 2019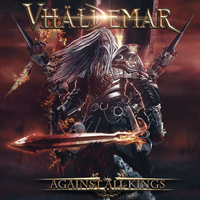 Severely and gloomily, Metalizer begins the narrative, enveloping the stern procession of the musical march with the revelations of vocal phrases about thoughts and origin. After a mid-tempo march 1366 (Old King's Visions, Part V) explodes in a rapid stream of drive, violently flying into the unknown distances of ancient legends. The title track continues the Vhäldemar -Against All Kings (Japan Edition) album, returning to an average pace, but transforming the musical dusk with the majestic banners of the solemn anthem.
Wrapping up with swirls of guitar trends, the introduction builds the foundation of the Eye For An Eye main motive, on which the epic vocal narrative majestically sits. The pulsating mid-tempo march is being transformed with intriguing inspiration of the I Will Stand Forever verse's vocal phrases, raising in the refrain the banner of valor and broadcasting about the upcoming exploits.
The majestic piano solo Vulcano is paved with an introduction to the Howling At The Moon song, that is intertwining bright symphony from bewitching guitar passages and introducing an epic atmosphere with a vocal part.
Thunderstorm and children's crying with a gloomy symphony in the background precede the development of the The Last To Die composition, which severely and significantly builds up the insurmountable stolen verse and raises the banner of significance in the chorus. The vocals harden and make the sound more raw than the previous songs of the album. Walking In The Rain continues the previous composition, rolling the waves for experiencing vocal phrases with musical waves. Vocal phrases full of nervousness and emotions shrouded in anxiety and anxiety in the Rebel Mind verse, in the chorus is raising the banner of military prowess and confidence in their own victory over all the kings. The magnificent instrumental symphony Titans In D Minor completes the album with the enchanting artistry of instrumental music, complementing the keyboard solo with the gloomy guitar passages of the instrumental solo of the Point of No Return (Bonus) composition of this release.