June 29, 2018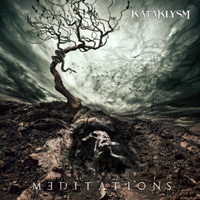 The short phrase precedes a powerful stream of a stern and dense drive, which rigidly and stubbornly propels a wave of rage, supplementing it with a melodic charm in the Guillotine chorus, combining the usual combination for the songs of this group - it's hard to remember who else can do so.
The Kataklysm - Meditations album continues with a similar combination, but here the rage gives way to a pulsating rhythm and the mesmerizing melodies in the Outsider chorus recedes before anxious reflections. But in the middle of the song musical power waits dreary reflections, concluding them with the verse march and emotional passages of the final chorus.
Dark ghosts hovers around melodic vortexes of the The Last Breath I'll Take Is Yours intro, then the vocal furious flow of drive calls for vocal reflections in the gloomy march of the verse, culminating in the majestic ballad of the chorus, fascinating with incredible melody.
The mysterious melody opens the gates to the limits of incredible narcissism, which Narcissist is engaged in concentrated and leisurely, rolling out a viscous march of the main motive. But sweeping aside these suggestions Born To Kill And Destined To Die rushes in an uncontrollable stream of enchanting melodism, swept away in a fast flowing music, briefly distracted by exciting guitar solos in bridges.
The In Limbic Resonance main motive inspires to follow the breathtaking flow of melodic passages, the vocals begin with scraming, combined with melodic passages with incredible swiftness and zeal for the divine benefits of the goals set. Perhaps the most hit songs of the album!
But after the heroic adventures, the confession ...And Then I Saw Blood revealed the musical characteristics of the album from a slightly different angle, remaining, however, just as worthy and successful decision in the melodic death metal music.
Dimly reflecting on the surrounding reality, the What Doesn't Break Doesn't Heal vocals exacerbate an atmosphere of anxious foreboding, reflecting on the possibilities to protect themselves from the surrounding horror, begging to sacrifice hatred and anger.
Thoughtful uncertain premonitions set the mood of the Bend The Arc, Cut The Cord intro, then turning into a powerful wave, rebelling against the disgusted order, waiting for the vocals to be carried away in the impetuous drive of impetuous drive. The latest composition of the album Achilles' Heel begins with an incredibly romantic and melodic introduction, continuing a dense and stern march of the verse, culminating in the unrestrained frenziness of the bridge and the return of the charming melody of the introduction to the chorus.