June 28, 2018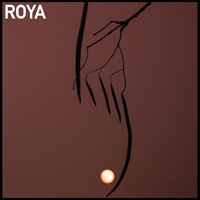 Playful mood slowly envelops the reflections of female vocals, filled with background chants of the male vocals, by mysterious shawl. In the The Lords Chirp's bridges, female vocals lean towards romantic tunes, giving inspiration to the first composition of the self-titled Roya - Roya album.
The Rich Kid main motive and vocal part are pumping music with doubts, condensing and thickening the sound. The dusky mist confuses thoughts and impressions, embracing the mind with obscure images.
A Sickness tends to escape from the surrounding twilight, preserving mystery and unpredictability - as if twisting doubts, reflections and conjectures. Following it End Times composition pushes back the twilight and uncertainty, giving the music a romantic and charming inspiration by the chimes of the guitar solo. Then the keyboard passages are hovering over the rest of the musical decisions with sparkling clouds, sparkling in the sunlight.
The keyboards part comes to the forefront of the Mailman musical image, enveloped in the whirlwinds of guitar dances and supplemented with thoughtful vocal phrasesof female vocals. Then male and female vocals intertwine their narratives, from time to time showing a very interesting duet.
Guitar fingering riffs weaves obscure laces in the gloomy fog, starting the Scum Rise composition with an obscure mystery. Then the vocals appear in thoughtful epic reflections, and the musical passages all condense the sound, while retaining ballad stylistics.
Dancing in the enchanted atmosphere Beautiful and Evil returns the freedom-loving stylistics of the 60-70s, like the aging hippies thoughtfully recalls memories of their young years.
The vortex of the main motive covers vocal phrases with disturbing motives, accentuating the name of the composition in the choruses, explaining Allergic Reaction by rejecting the surrounding reality.
Continuing the mood of the previous composition, Dr. Death waves the disturbing guitar motives, enveloping them and the vocal part with dark keyboards tunes.
The pensive romance again returns to the memories of the freedom-loving rock n rollers, turning from childhood to childhood memories - that once entering into darkness they counted 1234, again and again preparing for unexpected discoveries. Unhurried Mod with Feelings meditations, entangled in doubts, complete the album with a sombre haze, mysteriously concealing future opportunities and the likelihood of future changes.