August 13, 2018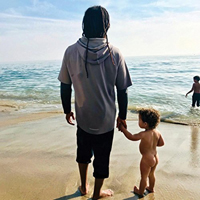 Shrouding in the usual calm atmosphere for this style, See Dem Fake Leaders calls for the perception of illusory leaders as something ordinary, moving away from this phenomenon and urging to delve into the truths laid down by the Ziggy Marley - Rebellion Rises album further.
The abandoned perception of the impending disasters The Storm Is Coming calls for concentration, supplementing the vocals in the choruses with the addition of female vocals on the background. Maybe there will not be a storm - but get ready anyway!
Returning to the original sources of this musical genre World Revolution introduces the trend of folklore elements, however, ultra-modern processing influences the sound of the composition - recitative of additional vocals introduces rapper shades, by the way.
Complementing the usual reverie and detachment of the genre Your Pain Is Mine brings sensuality and romanticism, appealing for the separation of feelings and emotions between friends without any barriers.
The pulsating drive of the introduction concludes with calm reflections accentuating the name of the composition Change Your World, then the reflections slowly unfold the musical canvas, supplementing it with waves of revelations and confessions.
Calmly and meaningfully, joy is explained in I Will Be Glad song, pointing out why joy is in a clear and confident perception, not moving away and not dissipating. High On Life continues joyful motives with dominant keyboards, combining melodic musical motifs with vocal finds, supplementing the main vocal with the singing muses.
Starting with a flattened pulsating sound Circle Of Peace hovers around the main motive, in the marvelous dances of the vocal part, reflectively reflecting on the experiences.
The keynote motives guided by keyboard passages brings an epic to the reflections of the I Am A Human vocals, combined in romantic reflections, enveloped in the style-specific trends of instrumental passages.
The title track Rebellion Rises completes the album, summing up its result by preserving the atmosphere, complementing the musical canvas with charming trends of keyboards passages.