March 01, 2023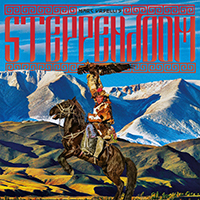 The unhurried musical step of the Etugen Eke & Od Ana composition begins the intriguing mystery of the Marc Urselli's Steppendoom - Steppendoom musical release, combining mystical musical passages with viscous vocal stories, continuing the embodiment of the atmosphere of twilight mystery with vocal diversity in the Garuda Khuresh song affirming the influence of Mongolian motifs and echoes of Tibetan prayers, complemented by the fascinating sound of guitar solos of instrumental fragments.
The unhurried development of musical variations with the vocal mystery of the Agloolik Igaluk musical story is shrouded in the twilight mystery of the musical atmosphere, enveloping the listener with a misty haze and weaving the listener with ghostly turns of musical mystery, then rolling waves of pulsating background musical rhythmic passages, crowned with wordless vocal melodies in the Tamag & Ocmah unhurried procession of musical variations.
The unhurried and soothing mystery of the Imdugud in Shambhala folklore motifs combines music and vocals in the unhurried sound of the twilight musical atmosphere, continuing a similar musical style in the sound of the Peri to Ela Guren composition, in which greater attention and compositional role is paid to the vocals story, while maintaining the atmospherics of musical tunes.
The gloomy slowness of the Sedna & Eliduc ritual tunes precedes and prepares for listening to the A-dkar Theg Pa composition, which finishes the album with a long and atmofractor musical gloom, in which the bells are responded and remote chorals are pacified with unshakable calm.