September 07, 2020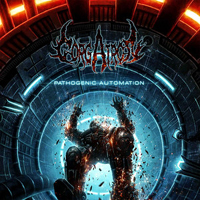 Unhurried musical rhythms whip up a wave of musical gloom, combining with the Atrophy vocal fury of growling in a mesmerizing unity of musical severity and enchanting melody. Accelerating the rhythm, but continuing the musical motives of the previous track, the Usurpation retains the musical dominance of vocals, continuing the Gorgatron - Pathogenic Automation album with a fast-paced musical thriller. The Reactor begins with vocal anger, then honors vocal phrases in a round dance of drive with guitar fury, weaving screaming and growling in the vocals.
Placing the leitmotif of the composition with the guitar solo of intro the Insurmountable then builds the musical essence on the alternation of screaming and growling in the vocal part. A swift whirlwind of musical drive crowns the Impostor Syndrome musical narration with the significance of vocal phrases. Weaving the musical lace of the main motif of guitar riffs around the axis of the vocal part the Noxious song takes you on a journey along the verge of a mid-tempo march and a fast-paced musical thriller, then exploding into violent explosions of unrestrained drive.
The title composition Pathogenic Automation draws you into the mesmerizing sound of the solemn anthem, enveloping the vocal phrases with mid-tempo covers of sophisticated melodic, but sometimes exploding in whirlwinds of impetuous drive. Carrying away the musical mystery of the guitar solo, the Frost Bitten Amputation then creates a musical composition that alternates between growling and screaming in the vocal part, combining them in a duet in the chorus. Whipping up rhythmic pulsations, the Pierced from All Angles concludes the concept album with artistic transformations of rhythm and tempo topped with vocal severity.