February 13, 2023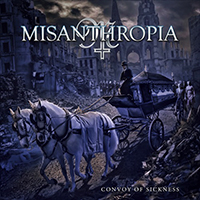 The title track opens the gates of Misanthropia (NLD) - Convoy of Sickness album with muffled sounds of a sad procession, then billowing with a whirlwind of swift drive topped with the Silent War song's vocals phrases.
The intriguing atmosphere of entering the background, wordless tunes anticipates the further development of the Pathological Desire to Kill composition and the introduction of demonic screaming vocals, then retreating to gloomy guitar riffs with mysterious vocals spells, but then returning to the forefront of the Nicodemus Narcissus musical image. Guitar riffs of intro set the direction of the development of musical passages, then crowned with the Sorrow Made Flesh vocal story.
The mysterious dusk of the wordless Aan De Herwijnse Zijde track begins the final part of the album, which continues the charming of The Unburied sad symphony, continuing with the rapid pressure and vocal impatience of the The Eagle and the Hare song and the fierce prayer of the Roze Balletten composition and twilight mystery to the Through The Eye Of The Needle final chord of the album.