February 14, 2023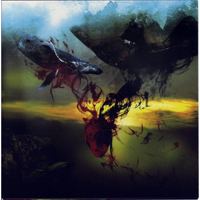 The twilight mysteriousness of the Adrift (The Albatross I) intro with unclear tunes, the tanning winds and the noise of the surf begins the musical story of the A Storm Of Light - And We Wept The Black Ocean Within album, continuing with the unhurried sound of the haltings of the Vast & Endless march, which gives emotional shades with vocal sensuality.
The leisurely rhythmic pulsations of the Black Ocean composition are shrouded in waves of background motifs and crowned with guitar riffs, preceding the nomination of the vocal part to the forefront of the musical image of the Thunderhead song.
And again, the noise of the wind and the surf in addition to instrumental variations continue the Undertow (The Albatross II) instrumental trilogy, preceding the fascinating charm of the Mass symphonic ballad, combining soft and thoughtful vocal phrases with echoes of soft and delicate musical passages, giving the greater significance of the vocal part with the dough of romantic mystery in the sound of the Leaden Tide composition.
Concluding the trilogy, Breach (The Albatross III) track begins the final section of the album, continuing with the Descent muffled twilight mystery, protruding the entry to the final album of the Iron Heart composition, which brings the shades of the battle march and the echo of memories of the past battles.