December 08, 2019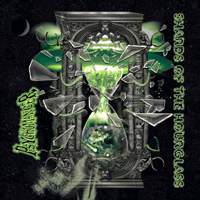 Painfully and significantly erects canopies of a magnificent mystery, then the The Unsullied vocals complement the march of musical passages with their phrases. The Psychomancer - Shards of the Hourglass album inspires the unity of severity and fabulous outlines, enveloping the rapid whirlwinds of instrumental bridges.
Hell's Venom continues the march of heraldic dusk, rolling in waves of significant experiences. A severe and significant anthem of dark anticipation Red Poetry envelops in the majestic veils of musical charm.
The swirling whirlwinds of furious drive intertwine in the As Your Vital Signs Decline deadly dance with vocal phrases. The bass guitars solo begins the musical narration of the Faded Scars Return to Bleed song, then complementing the inspired majestic anthem with guitar parts and vocal phrases, intertwining them in progressive variations of the enchanting dance.
Broken rhythm introduces progressive trends in the dance of the The Castigator composition, the vocal part seeks to slightly ease the growling tunes. Vocal bursts with rage, anger and power, rolling Deto-Nation in waves of litter drive, then combining with musical passages in a single stream.
Harsh and significant guitar passages Myrmidons brings into the introduction the trend of heraldic marches, but vocal phrases fly away by the swirling whirlwinds of the rampant march. The MK Ultra vocal first deepens the tonality and marches with a harsh mid-tempo march, then the music transforms over and over again and changes the rhythmic structure. The title track Shards of the Hourglass completes the album with an artistic variation of many styles, intriguing with a long introduction and mysteriously transforming with the introduction of vocals.