March 09, 2019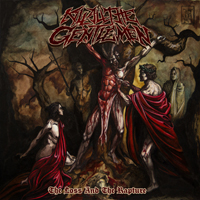 The growing roar culminates in the introduction of I Welcome The Horror vocals and the alternation of fast-moving passages with scream growl and brooding endings with deep growling. The final incarnation of the chorus with an exciting melody completes the first track of the Kill All The Gentlemen - The Loss And The Rapture album.
Twilight intrigue envelops in the intro, then the main motive envelops vocal reflections with inspirational changes, intertwining with vocal phrases in the impressive sound of the Sing For Me Sinner composition.
Bright and fascinating mysteries of the Where Here Is I Know Not musical motifs are enveloped in vocal phrases with fascinating ribbons of bright flashes of enchanting melody. A soft romantic ballad begins the These Are Godless Times composition, but then the power and drive elevate the melodious charm to the top of the story and are carried in an impetuous stream of drive. But the fascinating melody will return to the chorus.
Without preparation and anticipation, the furious drive takes the Death's Very Emissary narrative into an irrepressible whirlwind, intertwining vocal phrases of screaming and growling in the impetuous dance of musical change. The final part dramatically changes the sound, completing the composition with a pulsating march. Perhaps this is a kind of preparation for a muffled dialogue, culminating in a sparkling guitar solo. But this bright melody goes to the side freeing the space of title track's The Loss And The Rapture romantic ballad. Thoughtful reflections of muffled growling phrases culminate in an explosion of emotions and vocal screaming experiences.
Epic Damnation Be My Guide motifs, intertwining the harsh metal drive with the fairies of the classics as if continue the title composition and completely fit into the overall picture of the album.
After epic shades and symphonism enveloping the stern drive, Once A Slave rage and anger burst out and complete the album with an explosion of deadly rabies and impetuous drive, intermingling screaming and growling in a bewitching tangle of vocals interweaving.