March 10, 2019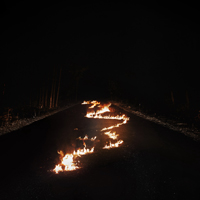 Thoughtful chorals set the atmosphere for the introduction, then romantic reflections in the soft musical thought continues and precedes the playful pulsation of the Heaven Only Knows main motive.
With a gloomy march and thoughtful vocal phrases intertwining vague dreams, the title track continues the Bob Moses (CAN) - Battle Lines album, raising inspiration and hope in the bridge before the chorus to transcendental levels.
Thoughtful atmosphere wraps vocal thoughts, emphasizing the phrase with the Back Down ttle in the chorus.
Fascinating improvisation of the piano develops into an enchanting main motive of the Eye For An Eye composition with classical influences, then in the verse the music recedes into the background, supporting vocal reflections with keyboard passages, returning to full charm for chorus and returning to the intro to the instrumental bridges. Developing a melodic atmosphere The Only Thing We Know transforms vocal revelations with influences of more modern styles. A sad romance continues the album breathfully, enveloping the atmosphere of a plea by close to the ballad Nothing But You composition. But Enough To Believe envelops you with inspiration and hope, anticipating a change for the better in a calm and peaceful atmosphere. Beginning with a romance, then the sound of the Listen To Me sond is complemened with the melodic influences of a classic and pulsation of electronic rhythm.
Intriguing with fascinating musical whirlwinds, Selling Me Sympathy composition builds up the mysterious castle locks, bringing the vocal part to the front edge. Then, twisted from side to side, the Don't Hold Back continues this manner with mysterious playfulness in the choruses and meditative reflections in the verses. The sacrament of pensive romance with dreamy prayers of vocals in the verses and encouraging inspiration in the choruses completes the album.