November 18, 2021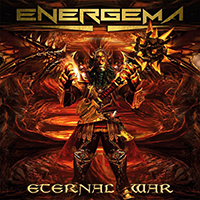 Marching soldiers, the horn calls them to battle then the Calling The Heroes (Overture) symphony acts as an introduction to the Energema - Eternal War album, then swells up with a furious whirlwind of drive sound of the Sands Of Time song, complementing the mood of the sound with vocal charm.
The album's first title track envelops with the twilight atmosphere, parading an emotional vocal narrative in a mid-tempo march that foregrounds the vocal significance of the musical image. After a militant drumbeat of the intro, the Wings Of The Wind song rushes off into a fast-paced race that celebrates the temptations of unforgettable adventures.
The Mystery Of The Seven Princes keyboard suite acts as an introduction to the next section of the album, in which the The Golden Eagle composition immediately lifts the wings of bright drive and flies to the temptations sought, supplementing the musical essence of the rushing fury with symphonic touches. The Circle Of Fire after thought soars with a furious guitar solo, then sets the sound of the main motif topped with a vocal experience. Fiercely and nistically, the Persida And The Red Dragon song combines melodicism, symphonism, and the fury of rushing drive in a single musical flow. The King Of Glory romantic ballad marches the enchanting sound of an acoustic procession in the intro, then complements the sound with a bright guitar solo. The Hidden Bookcomposition completes the album, bringing to its sound progresive complication together with the futuristic addition of the musical essence.