November 18, 2021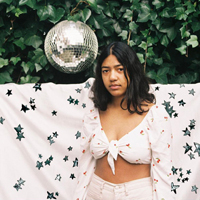 The soft chime of the acoustic guitar strings creates a musical lace of background support for the vocal reflections that begin with a recitative, then the singing lady charms the listeners of the Anywhere song with an enchanting sensuality, indicating the overall mood of the Hope Tala - Sensitive Soul (EP) release.
After a pensive guitar solo, the Jealous composition confidently and insistently brings the vocal part to the forefront of the musical image, accompanying the pensive vocal reflections with soft and sensual musical support.
The guitar solo and vocal phrases are intertwined in a single musical effort to create an atmosphere of peaceful romanticism, enchanting the sensual and gentle sound of the Sunburn ballad with touches of French chanson, which is created by the background tunes of the wind instruments.
Keyboard symphonic finger-snapping passages recede before the gentle charm of the singing lady's vocals, revealing the true face of the D.T.M. romantic ballad.
Returning to the sparkling romantic passages, the sound of the Lovestained track envelops the vocal reflections with the sparkling chime of the guitar passages. The Sentir monologue tells the story of the album's creation and the experiences of the singing lady during its conception and recording.