March 26, 2019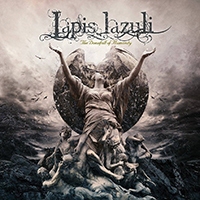 The wordless chants of the female vocals transforms the Prelude To Destruction majestic symphony, creating an intriguing background to prepare for listening to the Lapis Lazuli - Downfall Of Humanity album, captivating with the symphonic atmosphere and enchanting musical mystery.
The musical ideas of the introduction develop in the The Downfall Of Humanity: The Downfall title track, which develops throughout the album. In the first part, anxiety and premonition are woven by disturbing phrases of female vocals; in music, classic shades of symphonic metal are complemented by futuristic keyboards.
Romantic reflections raise vocal experiences to operatic heights, from time to time complementing the Stay With Me romance with gloomy phrases of male vocals.
Stubborn experiences roll waves of anxiety into the Perilous Sleep introduction, then vocal phrases complement the musical passages with ingratiating anxiety, but then they raise their emotions above the musical twilight. The Downfall Of Humanity: The Fallen continues the title track, starting with a furious wave of impetuous drive, complementing the previous tunes of enchanting female vocals with harsh male phrases, interlacing harsh with growling and clean hues. But female vocals also complement the narrative with their influence.
Female vocals begins the Left Behind song with fascinating whirlwinds of sad thoughts, then musical passages complement the lace of the main motive of his experience, weaving around charming lace of intriguing riddles.
The vocal brings up the style of the opera in the initial vocalize, then the Breaking The Chains music complements the vocal thoughts with a disturbing symphony, then intertwining its anxieties and experiences.
The symphonism of the album is fully embodied in the completion of the The Downfall Of Humanity: Endless Night title composition, complementing the vocal solo with chorals and enveloping them with fascinating musical trends. In the vocal part, the disturbing phrases of the female vocal, paying tribute to the operatic vocals, are complemented by the inspired phrases of the male and background chorals. The saddened symphony A World In Ruins, complemented by a chilling orchestral alarm, completes the album.